Roof Coatings for Spray Foam Roofs

Over SPF
To protect SPF from moisture, foot traffic, and ultraviolet rays from the sun, protection is required. Damage is prevented from any of these elements with a protective coating that seals the foam.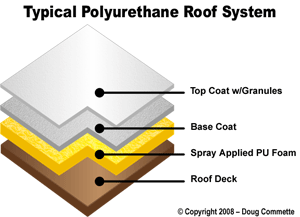 Gravel or a layer of elastomeric coating is applied to protect the SPF once it has been applied to the proper thickness and finish specifications. Producing a weather resistant surface, the protective layer also makes the surface easier to walk on to provide normal maintenance without causing any damage.
White or light-colored roof coatings are the most common type of cool coatings that are applied over spray polyurethane foam and other deck surfaces. These types of cool coatings can be: polyurea, acrylic, silicone, or urethanes.
A thin layer of gravel spread applied over the foam is another protective method used by a few contractors and suppliers. Even though elastomeric coatings are more common, the gravel system has a high success rate. Coatings such as polyurea, acrylic, urethanes, butyl rubber, and silicone are spray-applied as either single or double component systems. It is important to check with an SPF supplier before choosing what type of coating material to use for they all vary in cost due to their different physical properties.
A base coat followed by a top coat is the typical way these coatings are installed. Granules that offer added protection against mechanical ultraviolet damage are often embedded into the final coat.
To keep your SPF roof system in peak performance for decades to come, coatings require replacement or maintenance. They can be removed or re-applied just like paint on the walls of your house.
During different climate conditions, an SPF roof will expand and contract, like most other systems. Because the SPF expands and contracts, the protective coating should have the same ability of expanding and contracting and it is of the utmost importance that the coating does this, otherwise cracks and damage can occur. The characteristic that matches the SPF and coating system to the climate and roof system is called elongation. For advice on how to properly choose a coating that elongates with SPF and details of said coating, contact your materials supplier.

How can a SPF roof system improve your traditional roof system?
Leak-free monolithic seal

Self-flashing

High insulation value

Rapid payback with energy savings

Strong adhesion

Wind uplift resistance

Weather resistant

Lightweight and high strength

UL and FM approved systems
Areas of SERVICE
Our qualified Canadian contractors proudly serve Quebec City with high-quality spray foam insulation. We also provide foam insulation services to cities near and around Quebec City and all throughout Quebec. Call us today at 855-GET-FOAM (438-3626) or click here to contact us directly for a free quote or estimate.