In What Ways are Open-cell and Closed-Cell Polyurethane Foams Different?

vs. Foam
If your aim is to learn about spray polyurethane foam insulation, you're on the right page. Before going forward with a spray foam application on either a commercial or residential building, it is important to establish whether you will utilize .5 lb./cu. ft. open-cell foam or 2.0 lb./cu. ft. closed-cell foam. When factoring performance, method of application, and price, the differences between the two are significant.
There are two chief factors to consider when it comes to differentiating open cell and closed-cell foam. First off, it is important to examine each type of foam. With open-cell foam, the minuscule cells of the foam are not entirely closed, so the foam itself is permeable and can fill with air and moisture. These tiny open spaces render the foam weaker and softer feeling than closed-cell foam.
Unlike open-cell foam, closed-cell foam has all the tiny cells of the foam sealed. The cells contain a gas that provides the foam with the ability to expand and better insulate a structure. During the formulation process, the cells are designed to have certain attributes.
Secondly, it is important to consider the density of the foam. To determine the density of the foam one solid cubic foot of foam material is weighed. Typically, open-cell foams are in the neighborhood of 0.4 to 0.5 lb./cu. ft. in volume. Closed-cell foam can vary in density when it comes to insulation and roofing applications. For insulation application, closed-cell foam can fluctuate between 1.7 lb./cu. ft. to 2.0 lb./cu. ft., whereas for roofing applications, contractors will use between 2.8 to 3.0+ lb./cu. ft of foam. The heavier the foam is, the more rigid it can be. Polyurethane foam can even be used in a decorative setting such as utilizing foam to generate interior molding, or it can be stained or painted to simulate a wooden look. Such foams are very high in density, ranging from 30 lb./cu. ft. to 40 lb./cu. feet.
Closed-cell foam has a greater resistance to water vapor and air leakage, it is stronger, and has a higher R-value than closed-cell foam. However, because closed-cell foam is higher in density, it requires more material than open-cell foam, therefore, it comes at a higher cost. Despite its higher R-value, closed-cell foam's cost per R is still more expensive than open-cell foam. To decide which foam to use, it is important to look at characteristics like vapor control, strength, and available space in order to determine the requirements of the application. Open-cell foam usually utilizes water as a blowing agent and it has an R-3.5 value, where closed-cell foam requires high R-value blowing agents, yet gives out an R-6 value.
The factors mentioned above are catalysts when deciding which type of foam to use, as closed-cell and open-cell foams are the most common type of polyurethane foams used in building applications. Choosing the correct type of foam is essential, as one type of foam can be unnecessary and sometimes downright ineffective in certain applications. Case in point: open-cell foam should not be used in applications where water can be absorbed because water is a poor insulator. Thus, using open-cell foam in below grade or in flotation applications would provide little or no thermal insulation. In roofing applications or situations where the greatest R-value per inch is needed, closed-cell foam would be the correct choice of foam.
Prior to making a decision between open and closed-cell foam, you should request application and performance information of the materials considered from the supplier. Knowing the type and performance of the foam being used prior to the beginning of a job is an important topic to discuss with the spray foam applicator to make sure you are ahead of the game.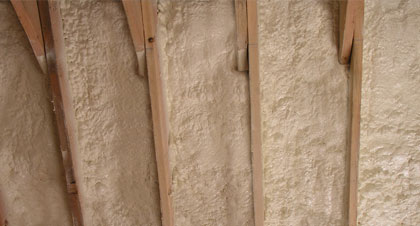 CLOSED-CELL SPF
Closed-Cell Spray Foam Insulation can serve as a five-in-one application by providing exterior insulation, an air barrier, a vapor retarder, a drain plane, and a water-resistive barrier in a single application.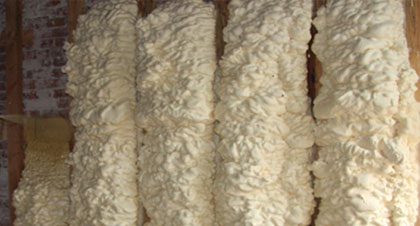 OPEN-CELL SPF
Open-Cell Spray Foam Insulation is intended as cavity insulation inside exterior and interior walls, and for use in attics and crawlspaces.

What can spray foam do for your Quebec City home or building?
Stops air / moisture leakage

Reduces drafts

Save on energy costs

Reduce monthly utility bills

Keeps dust and pollen out

Strengthens structures (CC)

Reduces Noise Infiltration (OC)
Areas of SERVICE
Our qualified Canadian contractors proudly serve Quebec City with high-quality spray foam insulation. We also provide foam insulation services to cities near and around Quebec City and all throughout Quebec. Call us today at 855-GET-FOAM (438-3626) or click here to contact us directly for a free quote or estimate.